Checkered 6061-t6 Full Size Paperweight 3/4 Inch Thick
$

189.00
Sold out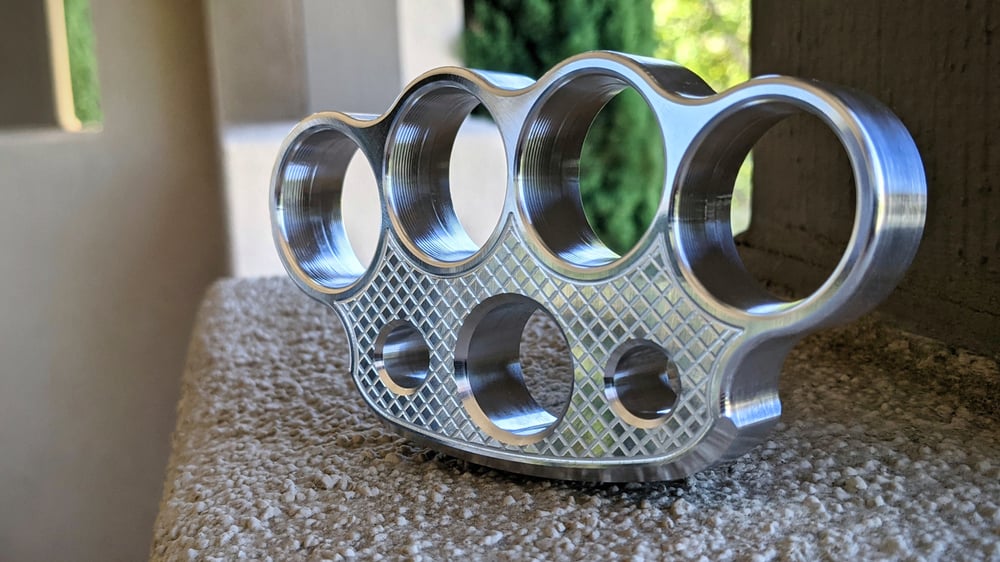 CNC machined out of 6061-t6 (aircraft grade aluminum) right here in the USA. No expense was spared making these knuckle paperweights. Each pair is fly cut, side milled, and then 3d milled. This is for one (1) 6061-t6full size paperweight.
6061-t6 is almost identical in strength to A36 steel while weighing 2/3 less.
We could have chosen an easier to mill design, cheaper material, or milled it in a foreign country. However, we only want to deliver the most badass paperweight humanly possible, so we did it right. Approx. dimensions (Full Size): 4.75 inch across 2.75 inches high and a meaty 3/4 inch thick. It has approx. 1.1 inch wide and 1.3 inch high oval finger holes.
Our product is to be used as a Paperweight, Bottle Opener, Keychain, Multi-Tool. Any other use of the product is considered a misuse, resulting in the forfeiture of any express or implied warranty of fitness for purpose. By purchasing this product, you agree to hold the seller (VitalEDC) unaccountable for any misuse of the product, which results in damage to yourself or third parties. It is explicitly the responsibility of YOU, the buyer, to know your local laws before ordering.
Once again, these items are sold as a historical and collectible PAPERWEIGHT items only. The items are warranted to be as described and shown in the photographs. No guarantee or warranty is expressed or implied as to the usability of the items other than use as a paperweight. The buyer, certifies that he or she is of lawful age and is not prevented by any law from the purchase or possession of these items. The buyer is responsible for knowing, understanding and obeying all International, Federal, State and Local laws concerning the purchase and possession of these items. Customs is the buyers responsibility. Do to the nature of our product returns are not accepted. All sales are final.